Viva Houz London 3 Seater Sofa, Sofa Bed,Full Navy Blue Velvet Fabric Cover
Product Code:
Viva Houz Helena 3 Seater Sofa Bed
- 3 Seater Sofa Bed
- Upholstery Material : Soft Velvet Fabric
- Pillow Top for Extra Comfort
- Seat System : 3 Adjustable Backrest Mechanism
- High Density Padded Foam With Spring Seat
- Frame Structure : Hard Wood frame
- Leg : Metal Sofa Leg
- Dry Cleaning Recommended
- Size (Sofa) : L185 X W91 X H86cm
- Size (Bed) : L185 X W118 X H46cm
- Weight : 34kg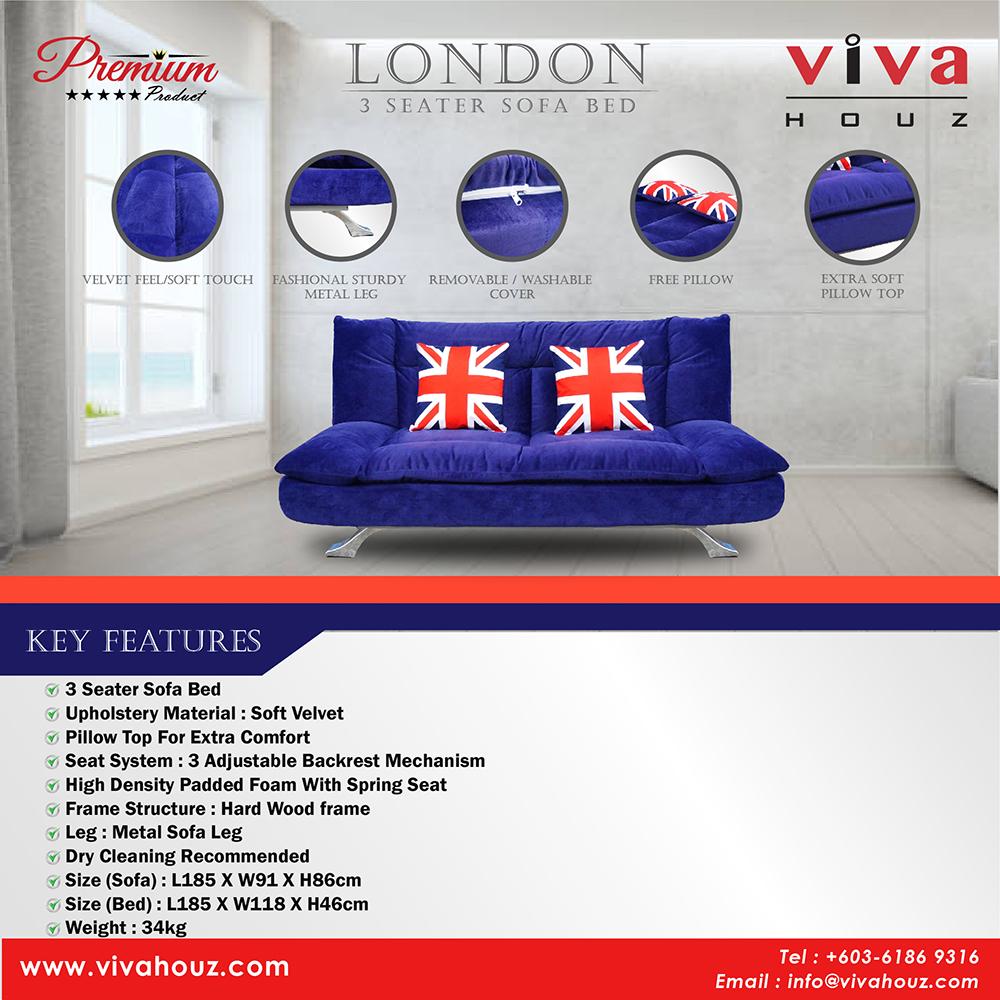 Viva Houz London 3 Seater Sofa Bed is an ergonomically designed sofa bed to enhance the beauty of your home or office. Suit a variety of rooms and decor, it is beautiful and versatile. London Sofa Bed finished in soft velvet fabric and two British flag pillows, this sofa bed comes with an adjustable backrest mechanism and offers the utmost in comfort and style; perfect for you to watch TV with the family, or to hang out with friends.
Easily caters to a huge range of lounge room sizes and shapes. This beautifully designed fabric sofa bed has wide seats for added comfort. Manufactured with high quality velvet fabrics, this sofa bed is durable and easy to move around. Aesthetically designed for your home or office.
Product Details :
3 Seater Sofa Bed
Upholstery Material : Soft Velvet Fabric
Pillow Top for Extra Comfort
Seat System : 3 Adjustable Backrest Mechanism
High Density Padded Foam With Spring Seat
Frame Structure : Hard Wood frame
Leg : Metal Sofa Leg
Dry Cleaning Recommended
Size (Sofa) : L185 X W91 X H86cm
Size (Bed) : L185 X W118 X H46cm
Weight : 34kg