Viva Houz Jasper Recliner Sofa, Chair Premium Quality (Dark Brown)
Product Code:
Viva Houz Jasper Recliner Model RC7143
Upholstery Material : Soft Velvet Feel Cotton/Polyester Fabric
Seat System : High Density Padded Foam, Pocket Spring System
Frame Structure : Solid Wood Frame With Metal Mechanism
Adjustable Leg Rest
Plush And Fluffy Feel, Soft Comfort Seating Sensation
High Quality Reclining Mechanism
Dimension : L78 X W76 X H103cm
Weight : +/- 35kg
Color: Dark Brown, Dark Grey, Light Brown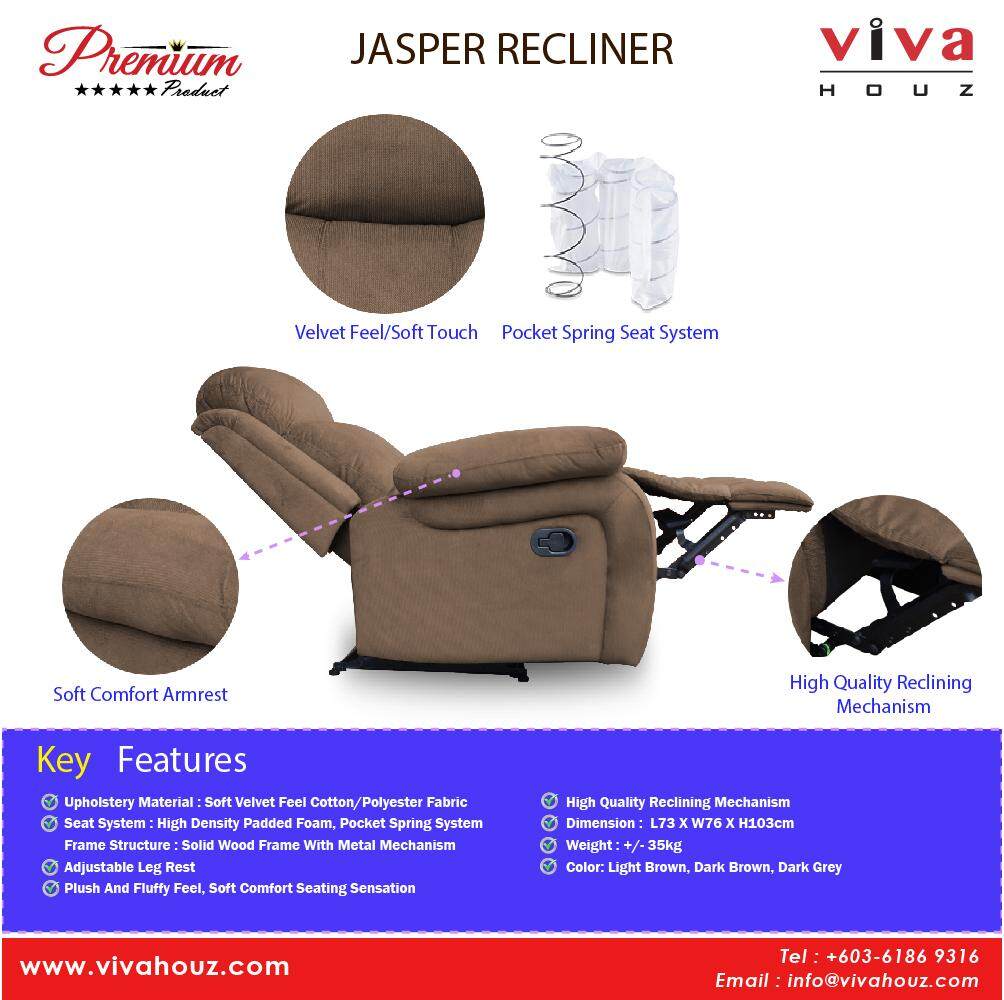 Viva Houz Jasper Recliner Chair / Sofa are upholstery with high quality fabric and reclining functionality make this recliner the perfect choice for those seeking superior style and comfort. It has a sturdy frame with broad padded arm for that secured comfortable feel and support when the relax mode kicks in.
The Jasper Recliner Chair / Sofa provides relaxation from head to toe with an easy to reach external handle provides easy open and closure of the reclining mechanism without interfering with the overall style of the chair. Update your living room environment with this comfortable recliner chair that's great for any space and makes it perfect to relax, take a nap or read a book.
Product Details :
- Upholstery Material : Soft Velvet Feel Cotton/Polyester Fabric
- Seat System : High Density Padded Foam, Pocket Spring System
- Frame Structure : Solid Wood Frame With Metal Mechanism
- Adjustable Leg Rest
- Plush And Fluffy Feel, Soft Comfort Seating Sensation
- High Quality Reclining Mechanism
- Dimension : L78 X W76 X H103cm
- Weight : +/- 35kg
- Color: Dark Brown, Dark Grey, Light Brown